CONSTRUCTIVE HEAD PAINTING

WITH GLENN VILPPU
Instructor: Glenn Vilppu
Duration: June 25 - August 20, 2018 (8 weeks)
Video Upload Time: Mondays by 5:00pm PST
Online Access: $199
Difficulty: All Levels
Glenn Vilppu is an internationally renowned draftsman, painter, and instructor.
In this class, you will learn value control, light direction, expression, and composition. This class will have emphasis on structure, planes, and procedure. The focus is on analyzing, not just copying, so that you truly understand the forms.
As an online participant, you will work from high-resolution photos that will be provided on the class page each week. Unlike in traditional classes, the online format allows you to work at your own pace. You can pause and rewind as much as you want, giving you the ability to absorb information at a speed that you set for yourself.
All participants will receive access to the class recordings and reference images for 6 months!
Limited Palette in oils. Colors include: Alizarin, Ultramarine Blue, Cadmium Yellow Light,
Titanium White (M. Graham & Co brand recommended).
Water soluble oils or Graham walnut based oils (ALKYD medium).
Odorless mineral spirits (Gamsol brand, please)
Sealed containers for mediums and solvents
A roll of paper towels (Viva brand)
Brushes: A variety of sizes are recommended, ranging from 1 to 12, Bristle brushes, round brushes, a flat brush for painting large areas, and sables (Rosemary & Co series 279 and
Filbert brushes are recommended).
Palette knives of various sizes
A palette (preferably glass with neutral grey beneath it)
Glass scraper
Any canvas board or stretch canvas can be used, around 12×16 in size
Easel: Mobile French easel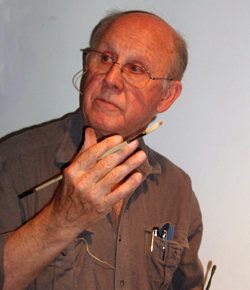 Glenn Vilppu is an internationally renowned draftsman, painter, and instructor whose books and DVDs are used by universities, art schools, and independent students around the world. Glenn is also a founding member at New Masters Academy.
Glenn has had at least 20 one-man shows and is represented in collections throughout the U. S., Canada and Europe. Glenn's approach to teaching drawing has become the standard for professional artists, often imitated by numerous teachers and applied by the tens of thousands.
Glenn has a BFA and MFA from the Art Center College of Design in Pasadena where he was an instructor for thirteen years. Glenn also served as Director of the Character Animation Dept. of the California Institute of Art. In addition, Glenn ran his own school for five years where he taught all subjects relating to art. Currently, Glenn teaches on-site at New Masters Academy, the University of California Los Angeles, Film and Video School's Animation Workshop, and the American Animation Institute where he also teaches his private Saturday classes.
Glenn has been giving annual lectures at the Ringling College of Art and Design for more than seven years as well as sketching tours of Europe for the past 16 years. Two to four months of the year are devoted by Vilppu to seminars throughout the world, from Greece, Sweden, and Italy to India and Japan. Vilppu has also been the artist in residence at the Savannah College of Art and Design in the United States and La Coste, France.
At the age of 40, Vilppu brought a unique and innovative approach to traditional figure drawing and composition into the Animation industry for over 20 years on both feature and shorts for all of the major studios. He also taught at all of the major studios, as well many game and special effects studios.
Week One: Basic Structure of the head focusing on broad planes to create mass.
Week Two: Drawing with Paint
Week Three: Limited Palette
Week Four: Value control, Basic Procedure
Week Five: Manipulating brush as a means of describing form, feeling the form with the brush; Presentation of Old Master Procedures
Week Six: Light Direction/ Warm and Cool color use
Week Seven: Expression
Week Eight: Composition
Sales are non-refundable but in some cases we can switch a student's enrollment in a class that has not yet started to another class of equal or lesser value.
Art Mentors reserves the right to cancel, limit enrollment, substitute instructors or models, reschedule or modify a class with notice to enrolled students.
If a class is canceled enrolled students will be given a refund. If an instructor is unable to finish a class term a refund will be given to students at a pro-rated amount.
FREQUENTLY ASKED QUESTIONS
Q.

Is this class online or in-person?

A.This 8 week class is online. Students will get online access to the recordings for a 6 months.

Q.

How advanced do I need to be to take this class?

A.This class is recommended for artists of all levels!

Q.

Are materials provided?

A.Students are responsible for their own materials. All supplies will be clearly listed for students.

Q.

Will I get reference images to work from?

A.Yes! You will be provided with high-resolution reference images of life models to work from each week.

Q.

Can I get a refund if I change my mind?

A.Sales are non-refundable but in some cases we can switch a student's enrollment in a class that has not yet started to another class of equal or lesser value.