ANATOMY BOOTCAMP BEGINS IN:
ANATOMY BOOTCAMP C: 3D ANATOMY FOR ARTISTS (SCULPTING)
Class: Anatomy Bootcamp C: 3d Anatomy for Artists (Sculpting)
Instructor: Joshua Jacobo & Johanna Schwaiger
Level: Intermediate, Advanced
Time: 5:30pm-8:30pm (3 hours)
Dates: 8 Sundays: June 24 - August 12
Price: $599.00 (All materials are provided including clay, armature, base to keep and sculpting tools to borrow)
Location: Art Mentors Studio: 16182 Gothard St Suite G, Huntington Beach, CA 92647
Anatomy Bootcamp: Traditionally, artists knew the importance of understanding human anatomy to create beautiful and powerful works. Art Mentors is committed to doing our part in rebuilding this rewarding and inspirational training approach for modern art students with top living art anatomy instructors and leveraging cutting-edge educational technology and resources.
The Anatomy Bootcamp is a unique and intensive 8-Sundays Summer Training program designed to give artists a jump start on their anatomical knowledge. Artists who enroll in both classes in the Bootcamp will be studying from 3:00 pm to 8:30 pm Sundays in a unique, fun, challenging, and entirely immersive learning experience.
In Anatomy Bootcamp C: 3d Anatomy for Artists students will be sculpting scale clay models of the anatomical structures lectured on in the previous Part B.
After a 30 minute break following the Part B lecture, students will learn from Joshua and world-renowned sculptor Johanna Schwaiger how to take that day's anatomical information and bring in into three-dimensions by building clay sculptures.
Using individual iPads pre-loaded with the day's 3D anatomical model, you will spend three hours constructing carefully prepared anatomical models.
Note: all materials and utensils needed for this class are included in the price.
In this class, you will be working in 1/2 and 3/4 life scale, building fragments or sections of the figure. This larger format allows you to focus on layering and relationships of anatomical forms and masses in structures such as bones, joints and the specific origins and insertions of muscles.
Joshua and Johanna will be available for the entire class to demonstrate, offer guidance, and critique student work from a proportional, anatomical, and sculptural perspective. Each week, you will take your clay models home and use the 3D model viewer on your internet-connected smartphone, tablet, or computer to complete your week's assignment. At the beginning of each class, Joshua and Johanna will spend time reviewing students homework before continuing with the new week's content.
This class is recommended to students who have some anatomy under their belt and is not suggested without the accompanying lecture portion of Part B.
Clay, armatures, and sculpting bases will be provided to students as part of the price of the class.
Sculpting tools will be available during class for students to borrow but students are recommended to purchase simple tools for working on homework. Students are responsible for:
• Sketchbook/Notebook for note taking • An internet-enabled computer, tablet, or phone device for view 3D files for homework assignments • Tracing paper for assignment feedback and critique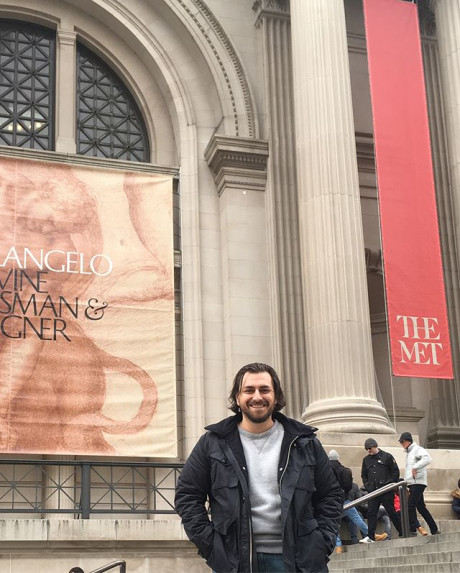 Joshua Jacobo is a Californian fine artist, educator, activist, anatomist, writer, and entrepreneur. Joshua draws and sculpts, focusing primarily on the figure, portrait, and animals. Joshua's work is influenced by the High Renaissance masters, as well as the Mannerists, Dutch and Northern European Masters, and some Golden Age illustrators. Recently Joshua has begun more intensive studies of the works of Bauhaus and abstract expressionist artists. Joshua is an anatomist, creating one of the most accurate three-dimensional sculptures of the anatomy of the human head and neck ever developed and is currently developing a full standing anatomy figure sculpture to be sold as a reference product for artists and medical professionals. Joshua had his first one-person show featuring thirty drawings in Midland Texas in 2012, only one year after beginning his full-time study of art. In 2012 Joshua also founded the online art school, New Masters Academy as an effort to bring top-level professional art instruction to artists around the world at an affordable price. Today New Masters Academy has thousands of students and is followed by millions on social media. Joshua and New Masters Academy were prominently featured in the popular Penguin book, "The Automatic Customer" by John Warrilow. Joshua was involved in the original "Occupy Wallstreet" political movement in New York in 2012 where he demonstrated and raised funds for supplies for the Zuccotti Park camp and reported on the police response for NationofChange. Joshua went on to organize with other political movements including End Dark Money, Strike Debt, End Koch Power, Black Lives Matter, and most recently Joshua spent time at the Oceti Sakowin camp at Standing Rock, North Dakota for the resistance against the seizure of native lands by the oil industry. In 2013 Joshua led a campaign that raised $500,000 worth of distressed debt from students and poor American families and abolished it outright. Today, Joshua manages several companies, in the art, education, and tech spaces and retains his board seat at NationofChange. Joshua is currently developing new artist pipelines for his large-scale sculptural work and teaches drawing for Art Mentors in Orange County California.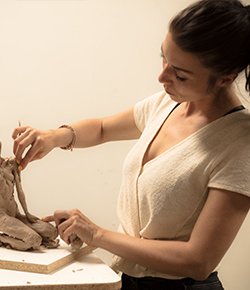 Johanna Schwaiger started to learn sculpting in Austria at the age of 15, when she enrolled the HTL technical school for professional crafts and arts of the sculpture department in Hallein. She learned wood carving stone carving and clay modelling. After graduating, Johanna studied Art History for four years at the Paris Lodron University of Salzburg with an emphasis on baroque sculpture. During her studies as an Art Historian Johanna took onto several commissions for figurative sculpture for private use and memorials for public spaces, such as town squares, graveyards, portraits and a café house in Chicago. At the age of 26, Johanna decided to deepen her understanding of the human form and went to Florence Italy for three years to study classical sculpture at the Florence Academy of Art. During that time, she studied anatomy at the Russian academy in Florence Italy. After she finished her studies, Johanna was invited to the Fine Art Center in New York Sag Harbor, where she taught portrait and figurative sculpting for one year. After that year at 2013 she returned to Austria where she started to show her work at the Galerie Schloss Wiespach in Salzburg and became part of a group of sculptors that show frequently figurative sculptures at the Sculpture Center "Kunstinsel". Later that year Johanna was invited to be one of the forty worldwide selected sculptors who created the biggest Mahatma Gandhi Memorial in Mumbai India. Each of them sculpted two lie size figures that represented the Dandi Marchers of 1938. Since 2014 Johanna is working as an instructor at the sculpture school HTBLA in Salzburg where she teaches figurative sculpture and nude drawing.She also takes onto commissions and holds a permanent studio space at the Galerie Schlos Wiespach.
Sales are non-refundable but in some cases we can switch a student's enrollment in a class that has not yet started to another class of equal or lesser value. New Masters Academy reserves the right to cancel, limit enrollment, substitute instructors or models, reschedule or modify a class with notice to enrolled students. If a class is canceled enrolled students will be given a refund. If an instructor is unable to finish a class term a refund will be given to students at a pro-rated amount.
Frequently Asked Questions
Q.

What is the Anatomy Bootcamp?

A.The Anatomy Bootcamp is a unique and intensive 8-Sundays Summer Training program designed to give artists a jump start on their anatomical knowledge. Artists who enroll in both classes in the Bootcamp will be studying from 3:00 pm to 8:30 pm Sundays in a unique, fun, challenging, and entirely immersive learning experience.

Q.

Can I take this class without enrolling in the other Anatomy Bootcamp classes?

A.We recommend that at the least you enroll in the Part B of the bootcamp which includes the lecture material for Part C.

Q.

Are materials provided?

A.Yes. Clay, armatures, and sculpting bases will be provided to students as part of the price of the class. Sculpting tools will be available during class for students to borrow but students are recommended to purchase simple tools for working on homework.

Q.

I am a beginner. Is this class for me?

A.We recommend this class for students who have some artistic anatomy knowledge, but it is not required.

Q.

Can I keep the sculptures I do in class?

A.Yes! At the end of class you will be taking your anatomical models home.

Q.

Do you expect to sell out?

A.Yes! Because of the nature of this class, we are limited on the amount of students we can accommodate. We have run this class twice in the last two years and in both instances the class sold out so enroll soon if you are interested!

Q.

What's the maximum class size?

A.We're capping the class at 20 students to ensure that everyone gets enough personal attention.

Q.

Do I need to know how to sculpt to take this class?

A.No! We use 3D materials to learn anatomy but this class is not intended just for sculptors.

Q.

Which areas of the body will this class cover?

A.This class will cover: 1. The Shoulder Girdle 2. The Arm 3. The Spine and Ribcage 4. The Thorax, Abdomen, and Pelvis 5. The Hip and Upper Leg
Have a friend that would be interested? Share this class: