NARRATIVE LONG POSE FIGURE PAINTING

WITH JOSEPH TODOROVITCH
Instructor: Joseph Todorovitch
Duration: June 25 – September 3, 2018 (10 weeks)
Video Upload Time: Mondays by 5:00pm PST
Online Access: $299
Difficulty: All Levels
Joseph Todorovitch is a professional figurative and portrait painter. In this comprehensive 10-week online class, you will develop one complete painting from start to finish with an element of conceptual narrative. This gives plenty of time to create a thought-out and finished work of art.
Throughout the class, you will focus on establishing pose and narrative. You will learn everything involved in creating a studio painting from start to finish, including how to set up a scene and plan your painting. Joseph will work with the model, and together you will solve the creative problems that arise when developing a work of art.
You will also learn lighting scenarios and value pattern motifs, along with color keys and other compositional ideas for making a complete painting. Joseph will discuss color mixing, establishing an accurate drawing, massing values, choosing areas of emphasis, and paint application. You will discuss finishing touches and ways to "strike a balance" to create a sense of resolve in your works.
As an online participant, you will work from high-resolution photos that will be provided on the class page each week. Unlike in traditional classes, the online format allows you to work at your own pace. You can pause and rewind as much as you want, giving you the ability to absorb information at a speed that you set for yourself.
All participants will receive access to the class recordings and reference images for 6 months!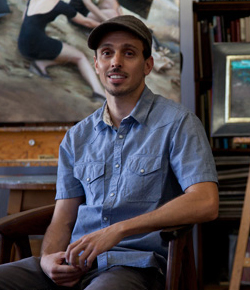 Joseph Todorovitch is a contemporary painter immersed in figurative subject matter exploring painting through the lens of a naturalist perspective. A product of Los Angeles Ateliers and research abroad, he has become nationally recognized as a fine artist exhibiting across the country and accumulating accolades including the Draper Grand Prize at the Portrait Society of America's annual competition. His work is internationally collected and has been exhibited in various museums in the U.S. as well as the Beijing World Art Museum in China, an historic exhibition of American art, the first of it's kind in China. Todorovitch has taught drawing and painting for over a decade in notable institutions such as California Art Institute, Los Angeles Academy of Figurative Art, Laguna College of Art and Design, Scottsdale Artist's School, Dreamworks Studios, among others and now including Art Mentors at New Masters Academy. He continues to teach and exhibit with vitality… "Joseph Todorovitch is one of the bright figures of the new representational expression in contemporary Art. Exploring the new expressive possibilities in presenting the human figure and expanding its visual language is part of a wider movement of taking the tradition­-based approach to the next step. The technically fluid, expressive tools merging tonality, color and shape ­ reflecting the perceptional and cognitive developments of our generation ­ is an inherently contemporary expression of contemporary visual cognition." ­ Classical Underground.
Sales are non-refundable but in some cases we can switch a student's enrollment in a class that has not yet started to another class of equal or lesser value.
Art Mentors reserves the right to cancel, limit enrollment, substitute instructors or models, reschedule or modify a class with notice to enrolled students.
If a class is canceled enrolled students will be given a refund. If an instructor is unable to finish a class term a refund will be given to students at a pro-rated amount.
FREQUENTLY ASKED QUESTIONS
Q.

Is this class online or in-person?

A.This 10 week class is online. Students will get online access to the recordings for a 6 months.

Q.

How advanced do I need to be to take this class?

A.This class is recommended for all levels!

Q.

Will I get reference images to work from?

A.Yes! You will be provided with high-resolution reference images of life models to work from each week.

Q.

Are materials provided?

A.Students are responsible for their own materials. All supplies will be clearly listed for students.

Q.

Can I get a refund if I change my mind?

A.Sales are non-refundable but in some cases we can switch a student's enrollment in a class that has not yet started to another class of equal or lesser value.